Poetry books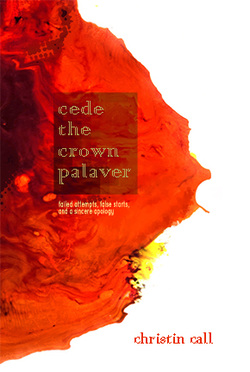 cede the crown palaver (failed attempts, false starts, and a sincere apology)
was self-published as a short run of 30 in 2014. There are no longer any books available, but you can
contact me
to be placed on a waiting list in the event of a second run.

I began these "attempts" of poems in 2010 and, in concurrence with my artistic practices as a dancemaker and visual artist, have spent three years exploring the ontology of failure from personal, cultural, and social standpoints. The first-person narrator threading in and out of these 25 poems—amused, ashamed, vengeful, melancholy—is overwhelmed by her limitations as a human being. The act of writing serves as an attempt to not be consumed by the knowledge of knowing the self's unalterably flawed way of viewing and experiencing the world, and yet the structure of this act (also created by a human) is destined to fail, too. Linear logic falls away. Endings are discharged, unresolved. Language crumbles on itself when descriptions cannot accurately represent actual things.I think of these poems as artifacts of failure—sidestepping, cicumlocuting, and often losing their way in the process of providing remorse for and a defense of the insufficiencies that define our nature.
---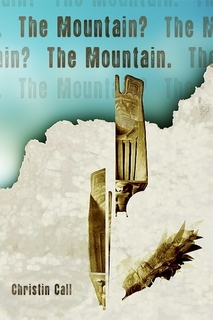 The Mountain? The Mountain. was my first collection of poetry, self-published in 2008. It is available through
LuluPress.
This collection is a sweeping look at the rise and fall of civilizations throughout history from the firsthand perspective of Jillian, an everywoman who persists throughout time along with one of nature's most dominating and permanent land features, the mountains. Examining the human need for monumentality in the face of changing government, religion, colonization, culture, and sexuality, Jillian's journey spans from Ancient Rome to present day America in her efforts to reconcile the imagined permanence of humankind. Albert Goldbarth, two-time winner of the National Book Critic's Circle Award, calls the poems, "smart with a fine-edged perception, but never losing their lyric beauty; challenging in the jittery jazzy leaps they make, but never defying one's commitment to them."
---
Other publications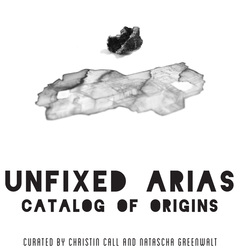 Unfixed Arias: Catalog of Origins is an exhibition catalog that was published in tandem with the premiere of the full-evening length work, Unfixed Arias, choreographed by Natascha Greenwalt and myself in April 2015.

This catalog is designed to supplement the thematic materials of the show, namely black holes and dark matter as a metaphor for grief and loss. Poetic contributors are Lael Ewy, Lydia Swartz, and John Call. Visual contributors are Sara Ann Davidson (cover), Stefan Gruber, Chrissie White, Enkhgerel Byambadorj, Nigel Cooper, and S.M. "Blue" Selby. My own visual and poetic works are found throughout, as well as an opening essay that describes the history and meaning behind this work. Full bios of cast and crew with photos of the company by Bret Doss and Ernie Sapiro are included.
---